Page1 | Party Y2K | page3 | Page4
---

After being in Sydney a day or so I suddenly realised that Mike and Paul weren't the only people I'd met abroad who come from Sydney. I got online and sent a message to Kenig, a guy I'd met a few times and had lengthy chats and beers with out in Korea back around '98. He'd also lived in mainland China studying and teaching but I'd no idea where he'd be now.

A day or so later I had my answer. He was out in the Blue Mountains living in a small town called Katoomba. So on the first Monday after being in Maroobra with Mike and Berta I thought it'd be good to give the guys some space (well Berta had travelled from the States to be with Mike, right?) and went to visit Kenig.

Poor Kenig's been under the weather recently a fact compounded by the fact that he's been suffering with incredible earaches caused by the noise of the city. Hence he's moved out to Katooba where, although flooded yearly by tourists, it's much quieter than Sydney.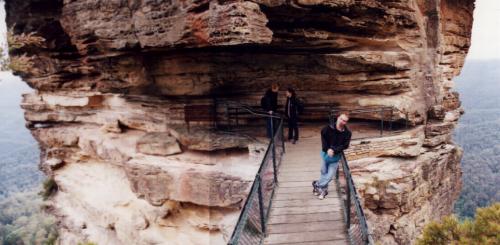 So we spent a great couple of days walking the trails of the blue mountains. Well Kenig's keen, only a couple of hours after my arrival in Katoomba he was eager to show me the natural beauty of the area. I remember asking him,"Man, this is your back yard? It's beautiful." The scenery is too beautiful to put into words. From our first view point we could initially see nothing. The mists that apparently just come and go covered everything. But after a short while the mists shifted and I couldn't believe how high up we were. we were looking down onto the treetops below that stretched as far as the eye could see. Spectacular.

So the first day Kenig took me on a walk that lasted a couple of hours which was almost enough time for us to catch up on what had happened in the last couple of years since we'd seen each other. It was great to actually have real conversations. It's been so long since I've had conversations and connected with anyone on more than a level which is deep but not on an 'involved relationship' type-level (I'm not sure if I'm explaining it well - but I know what I mean.)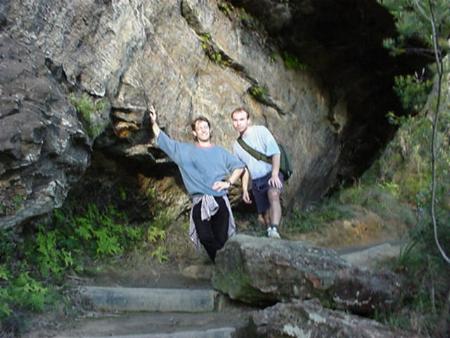 The best thing about going for a long, long walk in the mountains is passing by the pub on the way home. For us it was a choice of two in Katooba of which we chose the Carrington Arms. It's a nice pub where the locals and tourists alike are friendly and Kenig and I talked, and drank, and talked some more.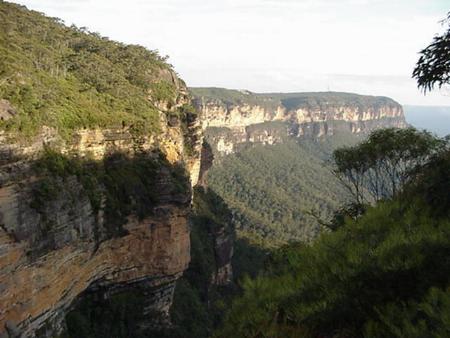 On that first night in Katoomba we met three German guys who were travelling in Australia and returning to Germany soon. I'm waiting for the photos and then I'll post them on this page.

---
Next page
---
Please send any comments or feedback to
six_a_t_w@hotmail.com
Site created 19th March 1999 currently being overhauled - Created using hey, HTML by Rob Price.
---
Click here to return to main home page. | Click here for the latest drivels.