Back to SixAroundTheWorld.tripod.com
---
Costa
Rica

---

Sunday
Feb. 4th 2001
Saying Goodbyes...

Fri. | Sat.-Sun. | Mon.-Tue. | Wed.-Thu. | Fri. | Sat. | Sun. |
---
My Central & North American Trip 2001
Costa Rica | Los Angeles | Mexico
---
Awoke with a lot to do. It was time to move on, unfortunately my time here had come to an end - this time around, anyway. Packed, said sad farewells to Sonia's Mum, Dad, and Carmen, her sister. Sonia's mum paints, really well and she gave me a composition of her experiences when she went to Taiwan. They were all so, so nice.

Still had more family to see. Sonia wanted to take me around to her abuelito (little grandfather) and the time we went around there co-incided with the visit by one of her

uncles and his family. We had lunch there and chatted for a while about Taiwan, how I found Costa Rica and English teaching.
Had to leave a little too soon after lunch because there were still things I needed to buybefore I left.
I'd heard of the licqueur made with coffee and had to get a bottle to try out - when in Rome... Not only that, I wanted to get some chocolates or something for the kids of the kindergarten where I was teaching.
Thanks so much to Sonia and her family for showing me such hospitality and kindness. Thank you all.
---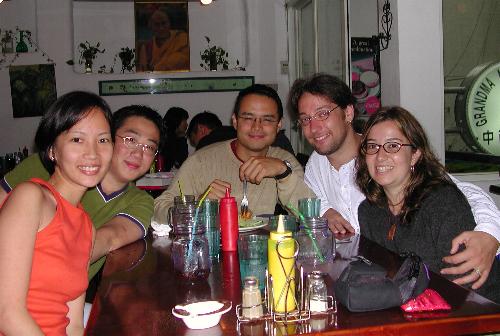 So we had a tearful farewell at the airport, softened by the fact that we'd be seeing each other in March - "only two months away"- when Sonia was coming back to Taiwan. For me it was a return journey to Taiwan via Los Angeles.
The cruncher came in March when Sonia came to Taipei. She'd been offered a place on a course in New York, studying photography. Knowing how important this is to her - I was happy, and sad. She is currently studying and living in Manhattan - arriving several days before the attack on the WTC - highly harrowing but she was about 90 streets away at the time. Good luck to you Sonia and I know you're going to do really well in whatever you set your mind on.
Rob

Fri. | Sat.-Sun. | Mon.-Tue. | Wed.-Thu. | Fri. | Sat. | Sun. |
---
Please send any comments or feedback to
six_a_t_w@hotmail.com
Site created 19th March 1999 currently being overhauled - Created using hey, HTML by Rob Price.
---
Click here to return to main home page. | Click here for the latest drivels.