Back to SixAroundTheWorld.tripod.com
---
Stockholm'01

Stockholm'01

28/29 July

28/29 July
---
---
Saturday 28th July

Took a trip out to Roesjoen lake and tried a bit more snorkelling. Ended up finding a bike at the bottom and fished it out (heavy as it was - it took about five attempts to get it out successfully. When it was finally out we discovered it was only an old kids bike, but still very heavy. Rather than push it back in again, we left it by the end of the lake for the park keepers or whoever to dispose of correctly. After a good few hours by the lake (easily manageable - love to just splash about especially with a snorkel) we headed back to Siggy's, showered, changed, and then hit the town.

Siggy advised that rather than going for the trendy clubs we should just go to a regular bar. And after being rejected from some snotty clubs (inc. the Spy Bar- my accent wasn't right or something? Aparently 'spy''Spu' in Swedish would be the equivalent of the English 'Spew' or 'throw up'.) we went to 'Felix' in Soeder and sat at an outside table. After a certain time everyone had to move inside and we chatted with two girls who were staqnding by the window that had looked out onto our outside table. Lotta is Swedish and Brynna is her Canadian friend of over 20 years who's been coming to Stockholm since she was a child. Brynna has just finished her first book (writing, I mean) and is researching for a new one in Sweden.
We moved onto another bar, an outside affair in the middle of a plaza somewhere, and chatted about stuff, including my trip back to Taiwan and the girls' long distance two decade friendship. the girls had to catch their train back to Soeder Talje at 12-ish so we said goodnight and after grabbing something to eat at a Falaffel bar, headed back to Siggy's car, checking out a Mosque that's been converted from a former power station - a very interesting conversion.
Sunday 29th
Another beautiful day in sunny Stockholm, so of course we took to the lakes again - but this time on Siggy's bikes, both of which have this backwheeling braking mechanism that I'd not come across before. It took quite a bit of getting used to seeing as I naturally backpedal a little when taking corners. Still we rode through the small roads past one of the mast affluent estates in Stockholm to get to a lake called the Djurshoelm. While there we came across a small group of young kids - one of whom is a student of Siggy's. We stopped for a while and Siggy chatted with him and tried convincing him that I was Chinese. Didn't work though.
The water here was clear enough to see a few feet so I was as happy as a pig in .... water. Over a two hour period I found two large wooden discs, about two feet in diameter, probably barrel lids, a whole shaped platform of wooden planks held together with wooden pegs as opposed to bolts, 11 saucers - some with '03' stamped on them and others with the years 1925 through to 1928 stamped on the reverse and one cup with a missing handle. What a hoard but the mystery remains, why should I find crockery on the lake bed and mainly saucers? Where did the other stuff go? How did it get there anyway? Stuff from 1925 and possibly from 1903 isn't bad for just splashing around.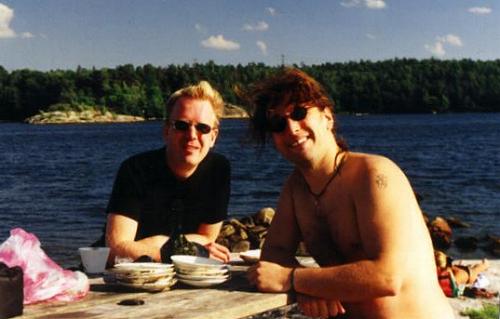 After a few hours of bobbing up, holding my breath, and submerging again to see what else I cand find, I cleaned up my hoard and wrapping it in a carrier bag hoyed it on the bicycle rack - to what end, who knows?
We stopped at a supermarket to pick up some kosher cheese for Sigvald, who's vegetarian, and we took it to a Pizza place for them to make vegetarian pizza for Siggy. I ordered Hawaiian, which strangely enough had shrimps instead of ham!?
Next Siggy had arranged earlier to go round to Han's (The chap with the swimming pool) place to use his floatation tank. We each spent about 30 minutes in it which was very relaxing. At first the salt, which is bitter salt from a salt mine in Germany is a little irratating on the skin, but that calms down within a little time. I think it's the beating of your heart that gave me a feeling of pitch and row while in a tank of still water. Yet another experience. After we'd each been in the tank Hasse, had prepared coffee and some Swedish bread cake. We ate and chatted and it was at this time that we discovered that Hasse wasn't averse to the odd tall tale. He'd told us on the night we met that he would be 81 next birthday and it was only today that he'd come clean that he was only 55. He'd orignially put that down to the miraculous powers of the floatation tank.
---
---
---
Please send any comments or feedback to
six_a_t_w@hotmail.com
Last updated 25/11/2001- Created using Tripod Freeform by Rob Price.
---
Click here to return to main home page. | Click here for the latest drivels.