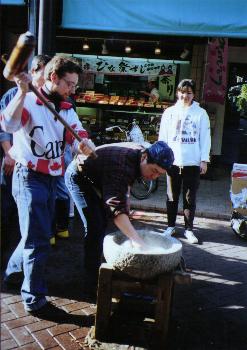 While walking around the more residential parts of Tokyo Aika, Takka and myself walked right into a local's rice dough making festival. We were invited to help in the making of the dough which entails pounding boiled rice with a large wooden mallet and after every pounding the rice is rolled over. Unfortunately I didn't find out the Japanese name of the rice dough, in Korean it's called 'dok'.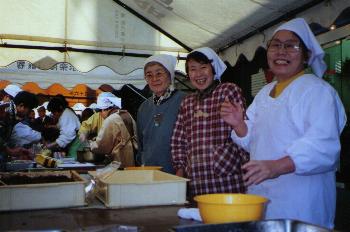 Here are some of the local ladies who took the pounded dough, rolled it, cut it, shaped it into rice cakes and then packaged and sold them.
---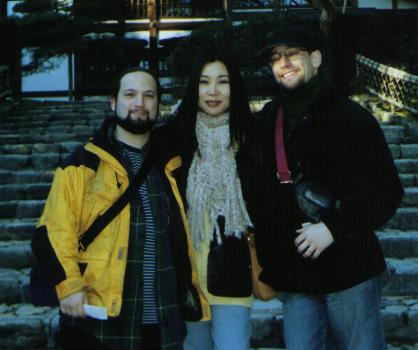 While taking a trip to beautiful Kyoto in Jan.'98, Kyung Hee and I stayed at the English Guest house and met this young American traveller there. We took a trip out to see the Golden Temple which was breathtaking.
Unfortunately I don't remember this guy's name (sorry!) So if anyone does recognise him please, please write to me at six_a_t_w@hotmail.com.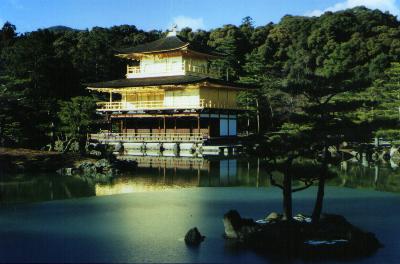 I would highly recommend for anyone to visit Kyoto as it's a beautiful historical city and said to be the cultural center of Japan. Here's the Golden Temple in it's shining glory.
---
Please send any comments or feedback to six_a_t_w@hotmail.com

Last updated 25/02/1999 - Created using Notepad by Rob Price.
---
Click here to return to main home page. | Click here for the latest drivels.