Back to SixAroundTheWorld.tripod.com
---
Stockholm

Stockholm

Aug 1-2.

Aug 1-2.
---
---
Wednesday 1st August

It so turned out that my visas were ready so we went to pick them up. We were ready to go out to lake Soedasjoen when Brynna called, so instead. We all went to see the Medieval museum. It has a huge array of Medieval artifacts plus and interesting display of toilets through the ages. Brynna was really undecided on what to do but finally she made her mind up to do some research in one of the libraries so we bade her goodbye.
Siggy and I drove out to the lake. By the time we got there the sun was already pretty low. The lake wsakind of long but, as it turned out, not so deep. Probably two metres at the most. The only thing was that as it was already pretty late the sunlight disappeared in some places and I'd be swimming along with visibility at only an arm's length or so then suddenly plunged into the deepest darkness. This was pretty disconcerting to be honest so I tried to keep to where the sun was reaching. The one thing I did find today was a small leather strap with a copper wire binding. Something that is like a camera strap but nothing near as modern. I guess all told I must have been in the water for one and a half hours, if not more, and by the time I came out I was shivering with cold. I dried off for a while and we went back to Siggy's place. Siggy's neighbour, Nancy, was home when we got back so she came around and we chatted for a while until it was time for her young son, Michael, to go to bed.
Thursday 2nd
Awoke lazily and got easily engrossed in watching Rolf Harris' documentary on the 'Mutiny on the Bounty' on BBC Prime, hence got out fairly late. Went to Taeby Centrum for some shopping then on to the harbour at Stockholm to pick up my ferry tickets for tomorrow to Estonia. Tried to get a passage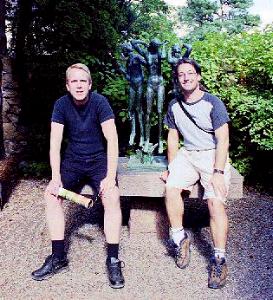 to Lithuania but no direct ferries from Stockholm. Luckily I tried my hand with my Chinese student card and got some discount, 25%, I think Not far from the ferry terminal lies a beautiful big house that holds a collection of art built up by a single family. It's called the Millesgaden and outside can be seen huge statues, some made of stone and some of bronze We spent over an hour walking through the garden and the house, also looking at peices not created by the Milles family, but collected by their successive generations of artists.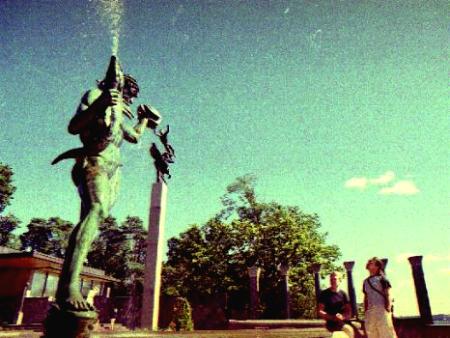 After our time looking through the house we headed back to Taeby for our daily swim, this time to another beach lake. The weather is definitely turning colder again now. The visibility in this lake wasn't much more than an arms lenght either. There were a lot of reids that didn't reach the surface and snorkelling over the ethereal canopy of the pale white forest was quite spooky, like some dark but serene dream. Originally we were thinking about hitting the town again but after getting back to Siggy's place and getting my stuff ready for the big-off, and doing some final internet stuff, it got a little too late and we figured we were tired anyway.
---
---
---
Please send any comments or feedback to
six_a_t_w@hotmail.com
Last updated 25/11/2001- Created using Tripod Freeform by Rob Price.
---
Click here to return to main home page. | Click here for the latest drivels.