Back to SixAroundTheWorld.tripod.com
---

***Thailand 3***
June 2001
---
Th. -Fr. | Sat.-Sun. | Mon.-Tue. | Wed.-Thu. | Fri.-Sat. | Sun.-Mon. | Tue.-Wed.
---


Monday 2nd June.
Got up late and wandered over to reception. There, we met Meital and Gil who were checking out. Dafi & I had brekkie, sweet & sour chicken (pron. "Chi - kin") and a fruit shake. Ah, breakfasts of champions. We ate and followed suit by checking out too.
Our plan was to find a place at the Big Buddha Beach (Ban Hat Rak), so called because of a huge seated Buddha in a temple at the end of the beach. The joke of the day was the famous:
"Where's George now?"
"Ah, he's gone off to Asia to worship one of these gods in orange robes."
"What, Buddha?"
"No, Krishna."
"Oh, I can't believe it's not Buddha!"
We were dropped off at the ferry pier and Gil and Dafir Stayed with the bags while Meital and I found rooms. Within five minutes we'd found a place, seen the rooms and decided on the Phayom Park, run by a Norwegian guy called Harry. We were checked in by a Thai called Rok, and also met the resident barman who introduced himself as Gecko. "I can see the resemblance." I said.
That afternoon I went for a run and swim on the beach and met up later on with Dafir, who accompanied me on the return leg of my run. Invigorating, running on the sand and then going for a dip in the sea.
After dinner we stayed at the bar at the cabins with Gecko as barman. We were there for a few hours and later on joined by some German tourists who I didn't immediately recognise as the Germans from the restaurant the previous night. They invited us to join them for a beach party with a bottle of whiskey, cola, and ice.
It was great for a while - Gecko shut the bar and joined us for a little while and brought his guitar for a sing-song. All in Thai, surprisingly enough, "okay, everybody join in now!" When the whiskey ran dry we went back to the bar and Gecko got out the water based paints that they use for signs and off we started with our own improvised 'body-paints'.
Somewhere in the night, I remember an argument kicking off with one of the Germans taking a dislike to Dafi, but it soon blew over and in what seemed like no time whatsoever Dafi was painting 'mother' down one of the German guy's arms and something quite offensive down the other. (Hey, think about it.)
---
Tuesday 4th June.
I don't know what time Daf came back but I hit the hay first and when I woke up I looked across at Daf's bed and saw him covered in red and green paint. On leaving the room to go for breakfast I also noticed the red paint on the front door curtain, which incidentally had somehow been half pulled off it's rail. Looks like a good night had been had by all.
Got up lazily, not noticing the time and walked less than fifty metres away to a small outdoors snack place and had veg and rice and a small Thai lesson from Khatoon, a local Thai girl. It's handy to be able to say 'eat food' and 'drink beer', etc...
When Dafir eventually entered the land of the living and sorted out breakfast, paint, etc... we hired a couple of motorcycles and set out West to do a tour of the island. I still want to hire a regular bicycle to 'do' the island at a more leisurely pace. From Nathon we headed South-East to the waterfalls in the centre of the island. We stayed there for a little while and this is where we met a group of Australians whom we'd met a day or so earlier in a caf?after walking around the Big Buddha Temple. We stayed, swam and took photos for a good while but decided to head out while there was still sunlight. There was a way out and back to the bikes (which were parked down the road at a designated bike park) which we took. Unfortunately it seemed that we took the wrong turn somewhere and the trek back to the bikes lasted about half an hour, as opposed to the ten minutes it should have been. Never mind, at least we found a coconut, which was still fresh enough to eat (after breaking into it.)
Back on the road again with the sun setting behind us, we took the road South-East to the coast again, before the road headed North once more. We stopped at Lamai Beach for a short while. The beach there looks fantastic and the waterfront is crowded with seafood restaurants.
Our next major stop was at Chewang, so when we got there, we rode the bikes down the main drag and parked them at the end. It's a long, long road. Once there, you can see pretty much everything for sale, CD's, watches, paintings, fake designer clothes, girls, ah, the list is almost endless.
Everyone we spoke to about Chewang had suggested we go to the Green Mango, so we took a look but it seemed pretty quiet. We plumbed for 'Fawlty Towers', a British-style pub with a wall painting of a goose stepping Basil Fawlty giving a Nazi salute, and one finger of his other hand under his nose while saying, "Don't mention the War." Next to him was Manuel with arms outstretched saying, "I know nuffink."
As we entered, there was an episode of 'Only Fools and Horses' playing on the pub's TV. Dang, Asia leaves me with British comedy withdrawal symptons. After the episode finished we went back to the main drag (no pun intended) and stepped into Christy's Cabaret Bar, complete with famed Thai lady-boys miming to Western songs.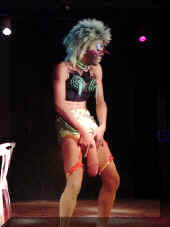 One of the singers was made up like a face lift gone wrong with eyeliner stitches all over her face and a big attachment down below, if you know what I mean, which she flopped out at any given opportunity.
One singer walked past me in the audience, stopped in front of me, and put her arms around me with her face next to mine. It was a totally heart stopping experience (don't worry, I'm not turning) because although she was, or still is, a man, she was so beautiful and had a real air of sadness around her.
That haunted me for the rest of the night. The next one to accost me, however, in the immortal words of Austin Powers, looked a bit man-ish. Well, if she was a woman, she looked like she'd been hit with an ugly stick.
We headed out around midnight and after managing to find the bikes and heading out at a real steady pace got back to Big Buddha Beach around 2. We had a couple at a local bar before hitting the hay and slept until...
---
Th. -Fr. | Sat.-Sun. | Mon.-Tue. | Wed.-Thu. | Fri.-Sat. | Sun.-Mon. | Tue.-Wed.
---