Page1 | Party Y2K | page3 | Page4
---

Towards the end of my trip Paul Farrell and I finally managed to meet up. He'd been leaving messages on Mike's answering machine and I'd been e-mailing him for most of my trip there. Then around the fourth of January I got a message saying that he was now in Sydney staying at a friends place.

Paul and I met sometime in 1995 in Cafe 'La Boheme' in Old Compton Street, London. I was sitting writing a letter or just sketching what was happening as I was wont to do in those days. We met up a few times and I don't know how it happened but suddenly I was involved in this social nightlife that included people from different walks of life and affirmed to me that there was more in life than the physical 9-5 drudgery. Paul seemed to attract people who were spiritually positively uplifting and every so often he and his now ex-wife Carol would hold gatherings, and each would be so different from the previous one. I was so looking forward to seeing Paul because the last time I'd seen him was for a couple of hours in the Summer of '98 while I was passing through London from Korea. Since then he's been living in Spain where he was working as a photographic assistant to a well known Spanish photographer. For the previous few months before returning to Australia he'd travelled through Malaysia and Indonesia. Something I plan to do also.


One thing I didn't know was that Another friend of Paul's was also in town and both Paul and Cornelius met me in Bondai where Cornelius is staying. Cornelius is an excellent DJ and mixer and is in Australia to make a name for himself by giving free sessions. After stopping of to buy some wine we went back to Corni's place where Cornelius cooked and we ate, drank wine and chatted until a crowd of Corni's flatmates and their friends came back partied. I enjoyed myself until I crashed on a cushion on the floor and just fell asleep while the music blasted and people had fun. I found myself sometime in the morning laid out on the floor with a pile of salt in front of my nose. Now I was confused - until someone explained that someone else had spilt red wine on the carpet.
So Paul had already gone back to his friend's place and I also made my way back to Mike's after deciding that time was not enough. Luckily I could extend my trip by another day which is what I did with a stopover in Bangkok.
later that day I caught up with Paul once more at his friend's place. Paul showed me his portfolio which is highly impressive. I just hope I can learn to take photos like Paul. Paul also cooked a great meal for us which really drove home that I have to start cooking for myself in Taiwan. Paul put it this way,"Cooking for yourself empowers you, and it's healthier." My schedule the last six months in Taipei means that I leave the house most mornings before 9am and don't return until after 9:30pm. Not the ideal scenario for a healthy lifestyle. Something has to go and since I got back I let go of most of my private students and now I cook for myself on average 5 or six times a week which is a vast improvement on last year. Indeed as I type this now I'm tucking into a chicken stew which I let cook in a rice cooker for forty minutes or so. I'm feeling so much better. Unfortuantely I'm not earning as much money.
That night I'd arranged to meet Mike and his friends out in a nightclub to celebrate Mike's birthday. Hopefully I'll have some photos sent soon to put on this page. Mike Scottie and Peter were wearing safari suits a-la-saturday night fever and everyone was in a dancing mood.
The next day was to be my last and Mike and Berta already had commitments at Mike's dad's place but they kindly gave me a lift into the city to Kenig's dad's house where Kenig met Mike and Berta briefly before they had to move on. I'd hoped I could introduce all the guys but not to be on this trip. Luckily though Kenig and Paul did get to meet. As I'd had so much to talk about with both of them seperately I thought they'd really get on as I'm sure they would with Mike.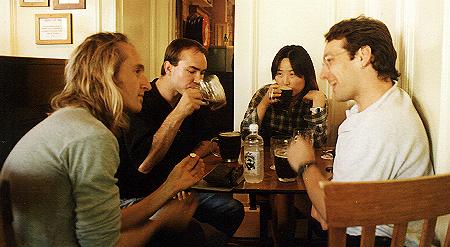 Kenig took me to the 'Captain Cooks', which I hear is the oldest pub in Sydney, but not before we picked up Eun-joo a Korean girl who's been studying in Australia for six months. As she was walking along with a guide map I guess we really freaked her out by asking her in Korean were she wanted to go. Her eyes nearly fell out of her head - and I'm sure her ears would do the same if they could move on their accord. After all a couple of white guys coming up to you and speaking Korean in an English speaking country is not an everyday occurance for Korean travellers. So what did we do? We took her to the pub.

---
---
Please send any comments or feedback to
six_a_t_w@hotmail.com
Site created 19th March 1999 currently being overhauled - Created using hey, HTML by Rob Price.
---
Click here to return to main home page. | Click here for the latest drivels.